Yesterday I got sick of typing
rake test
and
rake db:migrate
and being told
You have already activated rake 0.9.2, but your Gemfile requires rake 0.8.7. Consider using bundle exec.
I know you should always run
bundle exec
, but my unconscious memory has not caught up with my conscious one on that aspect, so I always forget to run
rake
under
bundle exec
.
So
I wondered aloud on twitter
if I could just alias
rake
to
bundle exec rake
, but confine that setting to specific directories (with bash being my shell).
Turns out, it is possible with the help of another tool that
Calvin Spealman
pointed me towards:
capn
.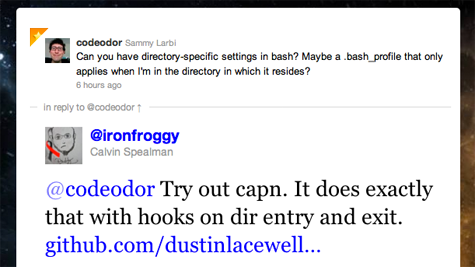 To successfully run the commands I've listed below, you need to have
python
and
homebrew
already installed. If you already have
libyaml
installed or have another way of getting it, there's no need for homebrew.
The section beginning with the line that starts out with
echo
and ending with
-unalias rake"...
creates the capn config file. It's just YAML, so if you'd rather create it with a text editor, you can surely do so. See the
capn project
for details on the config possibilities.
Either way, you'll want to change the paths I've used to the places
you
want to do the aliasing.
From the terminal, run the following commands:
curl -O http://python-distribute.org/distribute_setup.py
sudo python distribute_setup.py
sudo easy_install pip
sudo brew install libyaml
sudo easy_install -U pyyaml
sudo pip install capn
echo "
settings:
default_type: path

hooks:
- path: ~/workspace #change this to the path where you want to alias rake
type: tree # if you don't want the whole tree under the path above, remove this line
enter:
- echo aliasing rake to 'bundle exec rake'
- alias rake='bundle exec rake'
exit:
- echo unaliasing rake from 'bundle exec rake'
- unalias rake" > ~/.capnhooks


source capn # put this line in your .bash_profile if you want capn to work when you enter the shell

# to deactivate the hooks, use: unhook
Enjoy the silence now that you don't have to hear the whining.
Hey! Why don't you make your life easier and subscribe to the full post or short blurb RSS feed? I'm so confident you'll love my smelly pasta plate wisdom that I'm offering a no-strings-attached, lifetime money back guarantee!