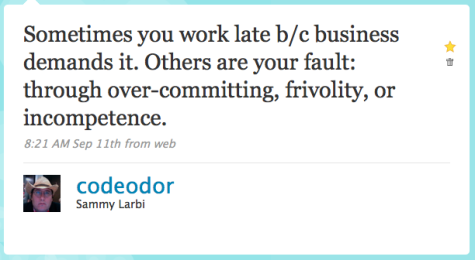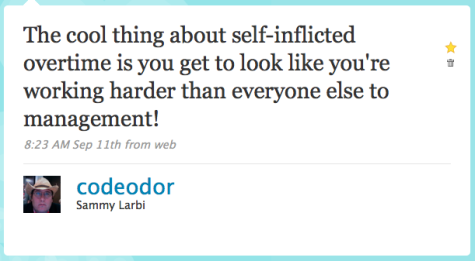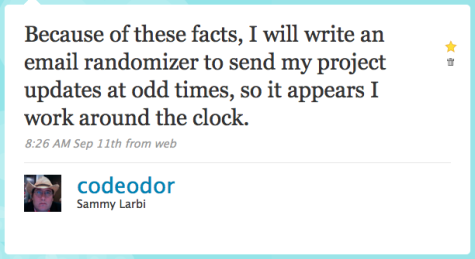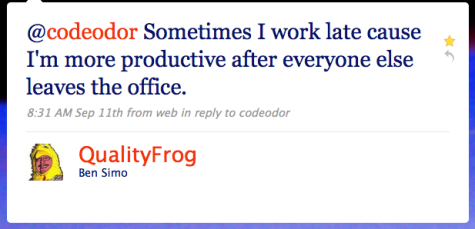 Good point,
@QualityFrog
. I hadn't thought of it because I come in early instead, for the same reason.
I'd really like to see a "Send Sometime In The Next 24 Hours" button in Gmail, but failing that, I'll just create a place for myself to store emails in a database until an hourly scheduled job sends them via Gmail at
getdate() + rand()*23
.
Hey! Why don't you make your life easier and subscribe to the full post or short blurb RSS feed? I'm so confident you'll love my smelly pasta plate wisdom that I'm offering a no-strings-attached, lifetime money back guarantee!
Leave a comment
Potential downsides:
* Your bosses might come to *expect* that you are available to them 24/7
* What if a recipient gets that email and immediately replies, "Oh, I'm glad you're awake! Can you ..."
* You may come across as less competent and less efficient than the folks who can get their stuff done and still go home before the sun sets.
IMHO:
* If this approach makes a good impression on your managers, you are working for people who value the wrong things
* If you're smart enough to write a cron script that can extract emails from a database and then send them via Gmail at randomized times ... well, I think that's a suboptimal use of your considerable talent
Posted by
Joe Grossberg
on Oct 20, 2009 at 01:43 PM UTC - 5 hrs
Leave a comment